Hey guys and gals! I'm so excited to be a part of this fabulous blog! I'm Amber from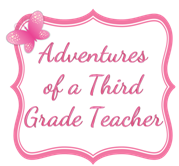 I teach third grade (as if my blog name didn't give it away) in North Carolina.
Here are some of the things I love:
Polka-Dots
Foldables
Teaching Content
Hands-On Math
Crafts & Art Projects
Reading books written for teenagers
Movies & TV
I also love giving away products, posting Freebies & tips to make your life easier!
You can check out my TPT Store for tons of freebies or check out my blog for some blog-exclusive freebies! :)
I'm looking forward to spending some time over here with other fabulous bloggers!